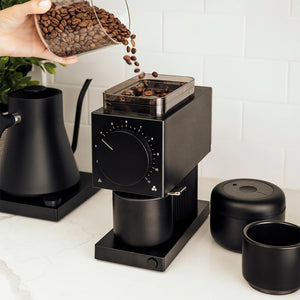 Fellow Products Ode Brew Grinder
Member price Member price $299.00 Regular price
Cafe performance for your countertop. Choose your burrs.
A powerful and precise home coffee grinder with café capabilities, Ode Brew Grinder does things differently. When grinders try to tackle both brewed coffee and espresso, they become a master of none. In stark contrast, Ode was designed to perfect your daily brewed coffee— AeroPress®, pour-over, French press, cold brew, and more.

With 64 mm professional-grade flat burrs, 31 grind settings, and unique single dose loading for maximum bean freshness, Ode is ready to hit the grind running! 
Thoughtful Features:
Single-dose loading
Grinds knocker
Compact Size
31 grind settings and guide
Quiet grinding and automatic stop
Choose Your Burrs
The Ode Brew Grinder offers two types of pre-installed burrs. The original professional-grade stainless steel 64 mm flat burrs offer 31 settings from AeroPress® to cold brew. With the same 31 settings, the premium Red Speed SSP Burrs allow you to access a finer range of grind settings for dialing in your pour-over recipes and have an extended lifespan.
Details

Usage: Ode is for brewed coffee (AeroPress®, pour-over, electric coffee makers, French press, cold brew, and more) only. It does not grind for espresso.
Compatible with: Fellow standard 64 mm Brew Burrs, SSP Red Speed Coated 64 mm MP Brew Burrs
Dimensions: 9.4"x 4.2"x 9.5" (239 mm x 105 mm x 242 mm)
Weight: 4.5 kg
Grinds Capacity: 80 g
Cord Length: 1 m
Power: 120V~, 1.3 A, 50-60Hz
Materials: Materials: Aluminum body, plastic load bin and base, stainless steel (Standard Brew Burrs), stainless steel and titanium aluminum carbon nitride coating (SSP MP Brew Burrs)
Warnings: CA Prop 65